Welcome to the Daifukuji Soto Mission Gift Shop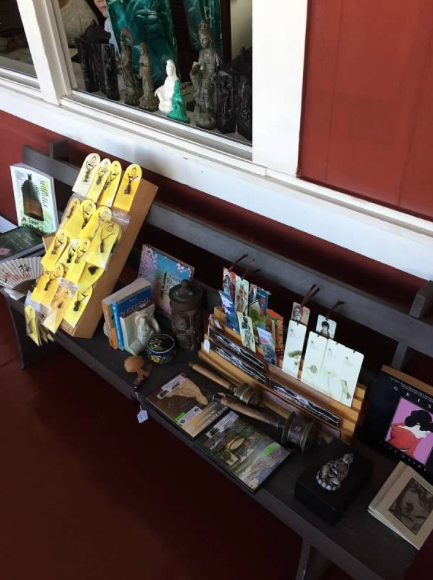 The door into the shop is on the far right. Next to that is jewelry, then scrolls (we have lots of scrolls), then miscellaneous items to the corner where wood shelves start.

The shelves hold many treasures, the greatest of which is an eighteen-inch, bronze Kannon from Japan, circa 1960's. In the background on the top shelf is a white spice rack displaying altar furnishings. Also on the top shelf are statues of Dogen (in the grey robe) and Bodhidharma (in the red robe). They are seated in abbot's chairs and are exquisitely detailed. Below the top shelf are smaller statues and incense. Incense continues on the next lower shelf and there's a stack of Daifukuji Obon towels.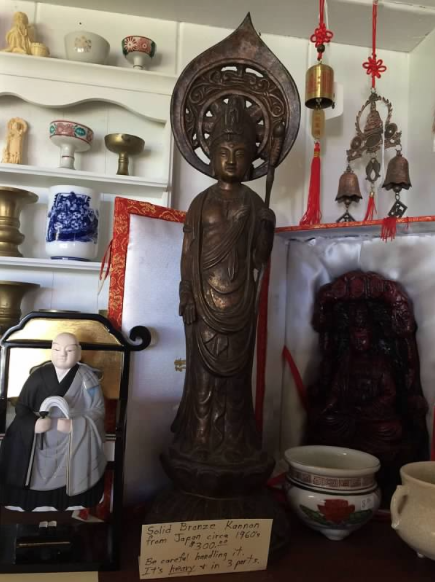 The bronze Kannon.

Gift Shop Hours:
Sunday, Dec. 11, 2016

8:30 - 9:30 am & 10:30 - 11:30 am



Sunday, Feb. 12, 2017

8:30 - 9:30 am & 10:30 - 11:30 am



Saturday, Feb. 18, 2017

8:00 - 11:00 am
pancake breakfast fundraiser



Sunday, Mar. 19, 2017

8:30 - 9:30 am & 11:00 - noon



Sunday, Apr. 9, 2017

8:30 - 9:30 am & 10:30 - 11:30 am



Sunday, May 7, 2017

8:30 - 11:00
Bazaar



Sunday, May 28, 2017

8:30 - 9:30 am & 10:30 - 11:30 am



Sunday, Jun. 25, 2017

8:30 - 9:30 am & 11:00 - noon



Saturday, Jul. 8, 2017

6:00 pm - 10:00 pm
Bon Dance



Sunday, Jul. 23, 2017

8:00 am - 2:00 pm
Orchid Show



Sunday, Sep. 10, 2017

8:30 - 9:30 am & 10:30 - 11:30 am



Sunday, Oct. 8, 2017

8:30 - 9:30 am & 10:30 - 11:30 am



Sunday, Nov. 19, 2017

Exact time to be announced



Sunday, Dec. 10, 2017

8:30 - 9:30 am & 10:30 - 11:30 am